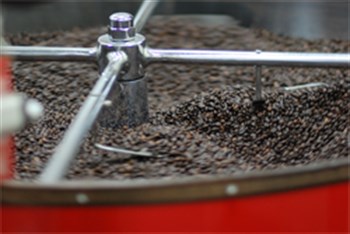 As you take a break from the corporate grind and enjoy your summer vacation, do you find yourself dreaming about being your own boss? Of creating a legacy that you could be proud of? Of creating a warm and welcoming space that encourages your neighbors and friends to come in and sit a spell? Port City Java history is built on twenty years of folks doing exactly that.
Something new comes into port
We opened our first café in 1995 with the goal of roasting and serving outstanding coffee while building quality relationships with customers, suppliers and the community. For us, coffee has always been about relationships. We like to know the people we're working with as well as the folks we are working for, our customers.
Captain of the ship
As it turns out, a former customer got to know the company so well he ended up running it!
Steve Schnitzler
started his career as a chef, working long, unpredictable hours in a local restaurant. Nearly every day, he'd stop and get a caffeine fix at the first Port City Java café in downtown Wilmington. In 1997, Schnitzler came to work for the company that had provided him with that caffeine kick for so long. His original goal was to help grow the business to a point where he could sell it and fund his own restaurant. As it turns out, by 2011, he had become the CEO of Port City Java…and co-owner, along with businessman Cecil Worsley and Wilmington architect John Rees. Together, the three have reinvigorated the brand, remodeled the cafes, and restructured the business model and franchising method.
The beans come home to roast
As the business has changed, the coffee and the customer experience have remained the same. The roasting is all still done right here in Wilmington at our corporate headquarters. In fact, the company moto "Globally Grown. Carolina Roasted." still holds true. Port City Java continues to use a 15-kilo Ambex roaster that's very similar to the one we began using years ago, though now it is used exclusively to roast our Organic and Fair Trade Certified coffees. We also have an additional 60-kilo Ambex roaster to do most of the heavy lifting, bringing out the complex flavors and smells from our hand-selected beans.
Focused on YOU…and your taste buds
We also continue to focus on creating a positive customer experience. Customers are the key to franchise success, and there is no greater compliment than a customer deciding to sit down, settle in, and stay the morning with us. Over time, of course, Port City Java has expanded our menu to meet changing customer tastes: It now includes many delicious coffees, teas, smoothies, and shakes. And, because we know some folks like to snack while they sip, we offer breakfast sandwiches and wraps, all baked fresh daily and served hot all day. We've become a full-service café experience.
Bring a coffee franchise to your shores
Today, Port City Java is a strong and growing coffee franchise. Our delicious, aromatic flavors can be found beyond the bustling streets of Wilmington. Of course, if you find that there's not already a café near you, embrace your dreams of entrepreneurship by learning about
Port City Java Franchising
.
« Back to Blog