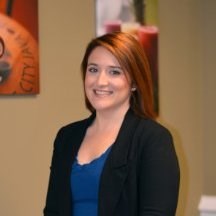 From barstool to barista to franchise executive, we celebrate Sarah Meriam on American Business Women's Day.
Sipping on a mocha shake before school with friends, a Wilmington, North Carolina, teenager had no idea her favorite coffeehouse hangout would provide her the opportunity to
embody the American dream and become a corporate executive
.
But that's exactly what happened to 32-year-old
Sarah Meriam
, Director of
Franchise Operations
at Port City Java, headquartered in Wilmington. Her "work from the ground up" story gets added to millions of other women being celebrated this week.
When
American Business Women's Day
was proclaimed in 1983, it was intended to celebrate the journey of professional women – in history, present day and the future.
Port City Java, a coffee shop franchise with more than 30 cafés nationwide, has been Meriam's past, present and future. Her journey began when she got her first job at Port City Java when she was 17 years old, mainly because she hung out there all the time anyway. She quickly worked her way up to "senior barista" specializing in running the espresso bar with unmatched hospitality and charm. By the time, she was 21, she became a manager-in-training and 6 months later got her own store. After 5 years as a store manager, CEO
Steve Schnitzler
promoted her to the corporate ranks as a franchise business consultant.
"It was clear early on Sarah was smart and hard-working, but her ability to connect with others, whether customers, employees, or future franchisees, really set her apart," said Schnitzler. "She has such great potential and we want to give her every chance to keep growing her career here at Port City Java."
In 2016, Meriam advanced again to Director of Franchise Operations. She says 15 years ago she never would have thought she would still be at Port City Java, but the company has always offered her opportunities to continue her education and expand her skillset.
"I have been incredibly fortunate. Every 4-5 years I am ready for a new challenge and Port City Java has always provided that. Right now we are in a fun and challenging growth mode and I'm excited to be a part of that," exclaimed Meriam.
Today, as the world celebrates Amercian Business Women's Day, we wish women in all industries continued professional development and satisfaction. Locally, we're celebrating Sarah and her ongoing commitment to the brand, Port City Java franchisees and coffee excellence.
« Back to Blog