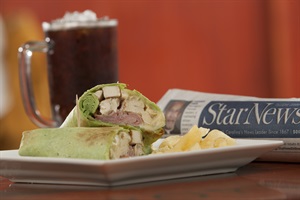 There are some universal truths when it comes to opening your own
Port City Java
location. That is to say, the traits that we consider necessary for a successful franchisee don't change. Our ideal owners have:
Personal and professional values that align with the Port City Java brand.
Social consciousness and an interest in their community.
A passion for operating an ethical, responsible business.
These are just a few examples. You can find a more complete list
here
.
That being said, there are different routes to franchise ownership and only YOU can decide which type of opportunity is best for you.
Single Store; Single Focus
When you think of yourself and your Port City Java location, what does it look like? Are you the person behind the counter, greeting customers by name and making them smile in the morning? Are you the one hand-crafting a Frappa' Cappuccino and breakfast sandwich? Are you the one hiring employees, many of whom you may have known for years? If this is the way you envision opening a coffeehouse then a single store is probably best for you.
Those who are community-oriented, hands-on, in-the-trenches type of people find owning a single store to be a match made in heaven. Of course, there are also the added benefits of having a smaller upfront investment and a less complex business to manage, which can make single store ownership and even more attractive option.
Multi-Store; Multi-Layered
However, not everyone is interested in owning a coffeehouse because they long to greet customers and grind beans. Some gravitate to the opportunity because they are focused on developing a successful business in a growing industry.
A multi-unit agreement is probably best for someone who sees themselves as more of a business manager and less of a barista. You'll still be in a community-oriented field, just not in such an everyday, hands-on way. Often in this situation, you'll work with the first store to get it up and running, while training two managers. Once the first store is well positioned, you'll be on the hunt for your second store's location. One manager will transition to the new location with you where you'll begin the process all over again.
This option is not necessarily for business beginners, and it requires a deeper investment to get started. Of course, multi-stores equal multi-returns. If you consider yourself business-minded, are good at hiring people who can oversee the day-to-day operations and have the investment capital to make your dream come true, then this type of franchising is for you.
Self-Starters Apply Here
No matter which path is right for you, all successful Port City Java franchisees have some traits in common. They're hard-working self-starters that have equal parts honesty, integrity, and humility. They're team players that know how to communicate their goals and expectations. If you think you're one of those people, then
start here with our questionnaire
. Port City Java will be happy to help you explore the possibilities.
« Back to Blog