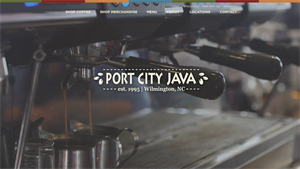 When it comes to opening a franchise, nerves can be involved. There is usually hesitancy on the part of the franchisee with questions and concerns ranging from café construction to managing a store. Much of the franchisor's worries involve the suitability of the potential franchisee.
Here at Port City Java, we strive to take the uncertainty away and replace it with openness. After all, if we're going to go into business
together
, then we're going to need to know a lot about each other and that includes asking some questions your mom might consider rude!
Talking about money can make some people uncomfortable, but it's essential in business. A potential franchisee is going to want to know about total investment figures and expected revenues. Here at Port City Java, we consider being upfront and as transparent as possible very important to our relationships, especially when it comes to the capital needed to become an owner/operator of a Port City Java café.
Your success as a franchisee is our goal. Thriving stores with repeat guests is good business for
all
Port City Java locations, so we want to help make that a reality for any new franchisees who enter the system. A franchise that opens, but then closes quickly is bad for the brand and bad for business. That's why Port City Java is so specific when it comes to investment thresholds for our potential owner/operators. These are the
MINIMUM
requirements we're looking for:
Net Worth: $500,000
Liquid Assets: $200,000
Buildout: $275,000+
Those liquid assets are important and should be available in cash and securities, not retirement accounts. An ideal owner/operator would also have a strong credit history.
So why is Port City Java so serious about capital? Because we want you to succeed! Only by going into the opportunity with your eyes wide-open and armed with an honest assessment of the financial needs will you be able to succeed. It protects us and it protects you. Shuttered stores and cafés that end before they can even begin are bad for business. We want the help you create a thriving café that's the hub of the community and a spot for people to linger with their drinks and snacks. That's why you can count on Port City Java to look out for your investment, as well as our own!
If you're considering a Port City Java franchise, make sure to read through the rest of the
website
.
You'll find out more about how we like to do business so you can decide if it works for you. Then, if you want to find out more, our
Port City Java questionnaire
is the next best step. It helps us learn more about you and starts a conversation about opening a café franchise.
« Back to Blog