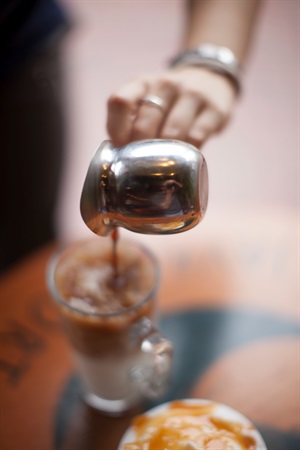 Given that there's a National Fruitcake Toss Day (Jan. 3), a National Stick Out Your Tongue Day (July 19), and even National Microwave Oven Day (Dec. 6), it only stands to reason that we should celebrate something truly worth the fêting. That's why we hope you'll join Port City Java in celebrating National Espresso Day on November 23.
According to the
National Espresso Day website
(yep — they have one!), this delicious and dark brew is an Italian-style coffee that made its debut back in the early 20th century. Legend has it that Luigi Bezzera, the owner of a manufacturing plant, wanted to speed up the time it took to make coffee. Whether it was because he was impatient for his own cup or whether he wanted to shorten the time his employees took for a coffee break is up for debate. Either way, Bezzera discovered that adding steam pressure to the coffee making process produced a stronger, more robust cup. The machine used in this new quick-brew process was named the Fast Coffee Machine and the beverage produced by it would eventually become known as espresso, which means "fast" in Italian.
Espresso is not a specific type of coffee , nor is it a specific type of roast. It can be made from any type of bean blend and roasted in any way. Here at Port City Java, our Espresso Blend is rich, aromatic, distinct and decadent. We roast it to a deep, rich perfection right here in our facilities in Wilmington. Each cup features full flavor, excellent body with moderate acidity, and is topped with a rich, golden crema (more on that later!).
What makes espresso so different from other coffee is the preparation method. First, you use a much finer grind on the beans. This allows that steaming-hot highly pressurized water to literally shoot through the finely ground beans quickly. The quick preparation method allows for concentrated flavors. The signature of a good cup of espresso is the "crema" on top. The crema is usually thin and foamy and can be golden-brown or even slightly reddish in color. It contains all the espresso's concentrated sugars and oils. It's this layer that helps balance the bitterness from the body, making for a complex cup that's delicious on its own, or as a base for many other Port City Java favorites.
It's critical for Port City Java owners and employees to understand not only the origin of espresso, but also the preparation. As the base for so many other menu favorites, the consistent and correct preparation of espresso is an important part of our brand consistency. For franchise owners, Port City Java will facilitate an 18 to 24-day training program for the owner, and any designated management personnel, in one of our Certified Training Cafés in Wilmington, North Carolina. We also have on-site assistance before, during, and after opening, as well as on-going support.
So, take the time to appreciate the complex and celebrated espresso this November 23. It's not only a delicious menu multi-tasker, it's also a little cup of interesting history.
And, if you're interested in
owning a Port City Java café
, complete the questionnaire to start the conversation.
« Back to Blog