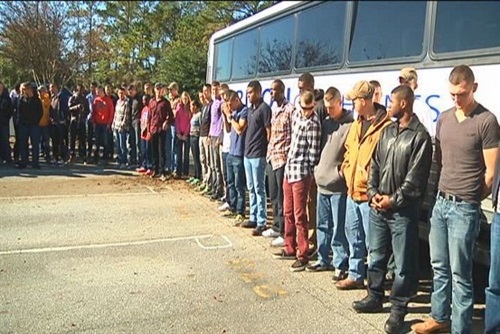 The holidays are a special time to be with family and friends. This Thanksgiving, as we gather around a table, surrounded by people we love and care for, enjoying a delicious home cooked meal, a lot of us will take a moment to think about those who aren't so lucky. But this year, some families in Wilmington, North Carolina, will do more than just "think" about those who are alone on the holiday; they'll open their doors and welcome these people into their homes.
Dozens of families have signed up to take part in Port City Java's 7th Annual Marines for Thanksgiving. Altogether, three busloads of Marines from Camp Lejeune will be paired up with local families across the Wilmington area. They'll meet their host families at 10:30 AM on Thanksgiving and spend the day sharing a home-cooked meal and family fellowship.
Most of the Marines taking part in the program are known as "Baby Boots"; Marines that are just out of basic training and spending their first holiday away from home and family. It can be an especially difficult time.
Port City Java
CEO Steve Schnitzler says that in the past, he's received phone calls from the families of some of the Marines taking part in the program. He says they just want to thank people for taking in their loved one on that special day.
"We all pay lip service to supporting troops," says Schnitzler. "It can become rote. You want to thank them? Take them into your house, feed them dinner, look them in the eye, shake their hand, and say thank you."
The Marines for Thanksgiving program has more than tripled in size since it began seven years ago. It has become a Thanksgiving tradition for Deborah Conard's family. They've hosted Marines every year since Port City Java started the program. "I can't tell you how humble you can feel. It gives us pride in our country and absolute faith in our future to host them in our house and, in some small way, show our thanks," said Conard.
The Marines for Thanksgiving program is just one of the ways Port City Java shows our commitment to our communities. We encourage all of our franchisees to be involved in their communities and to be contributing members. It's part of the passion that we put into the brand. At
Port City Java
it's about more than just brewing a fantastic cup of coffee, it's about being responsible corporate citizens and immersing ourselves in the communities that we call home. What better way to do that than to help serve those that sacrifice so much to serve our country.
« Back to Blog