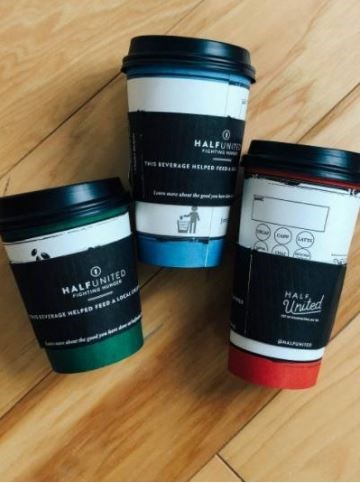 Port City Java has a lot of hot gift ideas for the people on your list this holiday season but none quite as unique as the distinctive black coffee sleeve you can buy to feed hungry children. Port City Java is teaming up with the socially-conscious fashion line
HALF UNITED
in the
Giving Back is the New Black
campaign beginning November 26th.
Here's How It Works
For every hot beverage you buy you can add a $.50
Giving Back is the New Black
sleeve to adorn your cup. All proceeds will go towards local non-profits working to feed hungry children right in your own community this holiday season. Right now, 1 in 5 children in New Hanover county alone goes to bed hungry each night. You can help relieve those hunger pains with a simple $.50 upsell while getting your caffeine fix. It's all a part of
Port City Java's commitment as a company
to be contributing members to the communities we serve.
What is HALF UNITED?
HALF UNITED is a socially-conscious fashion brand started in Wilmington, North Carolina in 2009 by Carmin and Christian Black. The brother/sister team was inspired by the "one-for-one" business model and a desire to make a world-wide impact in the fight against hunger. HALF UNITED calls their T-shirts, hats, bracelets, earrings, and necklaces "fashion that feeds." For every HALF UNITED product sold, seven meals are donated. The company is making an impact not only in Wilmington, but in countries around the world including Cambodia, Madagascar, Fiji, and Haiti.
Fashion & Coffee That Give Back
Their commitment to community makes HALF UNITED a perfect partner for Port City Java, so when Carmin Black (a former Port City Java staffer!) approached us to help, the answer was an easy yes! At Port City Java, it's our mission to exceed the expectations of every guest on every visit, while at the same time working to serve our larger community. Our customers have giving hearts and we could think of no better way to care for our own and spread some love this holiday season than by joining our customers with HALF UNITED to offer help to those in need.
Listen in to CEO Steve Schnitzler's coffee chat with HALF UNITED Co-founder Carmin Black.
Make the Holiday's Helpful
The bold black sleeves arrived on November 26th and the campaign runs through the new year, or until the sleeves sell out. Our hope is that as our guests are out shopping they will take the time to stop in to their local Port City Java for a boost, purchase a
Giving Back is the New Black
sleeve, and make a difference in a child's life.
« Back to Blog