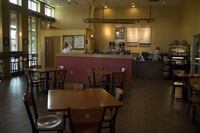 Port City Java will replace the Starbucks in Chase Hall this fall.

According to a statement from Scott Myers, the director of Auxiliary Services at UNC, plans to switch to Port City Java were unanimously approved in April by the Student Dining Board. The plans are in final review with State Construction, and the café is scheduled to open early in the school year.

The CEO of Port City Java, Steve Schnitzler, is hoping to start serving by August or early September.

"This will be open for the fall semester," Schnitzler said. "One thing I have learned in 23 years of business is that construction almost never happens exactly when it's supposed to. The exact open date is up in the air."

Port City Java has been expanding outside of Wilmington steadily since 1995. The company has locations all around North Carolina, as well as Washington D.C. and South Carolina.
« Back to Blog