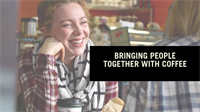 Whether it's an intentional meet-up with an old friend, the accidental reunion with a college roommate, or a blind date – coffee cafés serve as a go-to meeting location for people all over the world.
Coffee shops have been bringing people together since their inception. Legends date coffee houses sprouting as early as the 15th century, beginning in the Arabian Peninsula, later making its way through Europe, and eventually to the United States. Now you can find a café on nearly every corner of any metropolitan area.
In their early days, these java shops were not only popular for its mysterious black beverages, but also for the music, performances, games, and information exchange. As their popularity grew, coffee houses became known as symbols of intellect – a more practical venue for rational social interaction than its spirited counterpart, the local pub.
Historically known as "Schools of the Wise" and "penny universities," coffee houses were considered key centers for the exchange of both intellectual and social activity. High energy like your local tavern, without the inebriation. For the small price of a coffee, one could strike a thoughtful conversation with friends and strangers alike.
Today, cafes are a default meeting place for business professionals, remote workers, and patrons alike. On a daily basis, our attentive baristas witness a number of guest encounters ranging from study sessions, work meetings, casual introductions and more. The social possibilities are endless.
Here at Port City Java, we take pride in providing a positive guest experience along with a welcoming and comfortable atmosphere. It is our mission to exceed the expectation of every guest on every visit and we understand that coffee is just a fraction of that experience. We do understand the importance of a positive environment, uplifting social interactions, and the significance a simple beverage can have on your day.
We'd love to know the impact our cafés have made in your lives. Share your café moments with us, we'd love to hear all about it!
http://www.ncausa.org/About-NCA
http://www.ncausa.org/About-Coffee/History-of-Coffee
https://ineedcoffee.com/the-coffee-house-a-history/
« Back to Blog