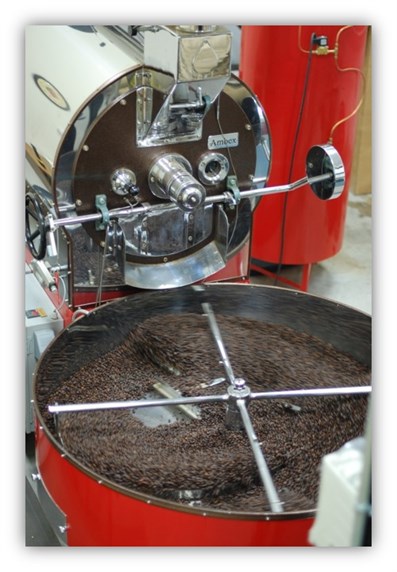 A lot of factors come into play when you're running a business: Planning, motivation, creativity, and many more are all important. In some businesses, "timing" might not get the same attention as these other qualities, but here at
Port City Java
, timing is critical.
Timing matters to us because freshness matters. That's why it's so important for Port City Java to roast our own coffee beans. Said Steve Schnitzler, CEO, "We roast our own coffee because it is the only way to guarantee that every bean is handled exactly as we want it to be. Doing so allows us to control the entire process from green coffee bean directly into someone's cup."
The Only Constant
In its green state, coffee can last a year if it's stored properly. This gives us the time we need to search out the finest beans from around the world, importing them from Colombia, Costa Rica, Sumatra, Tanzania and points in between. The beans then end up in our roasting facility here in Wilmington, North Carolina. Each batch of every variety will be roasted and sampled many times over in order to bring out the unique flavor profiles of the different beans.
The only thing that is standard for all our beans is
timing
. Said Schnitzler, "At each stage of its life – from green bean to brewing - the window to use the coffee at its peak grows shorter and shorter. That is why we only roast what we need, when we need it. We only grind coffee for the morning rush and as-needed throughout the day, and we serve it immediately when we brew it. All of that matters."
Locally Roasted Coffee
Port City Java roasts our beans five days a week. This allows our cafés to serve coffee that was roasted just days before. It makes a difference to us — and to our guests. It's a difference that you can taste and smell. We even ship directly from our roasting facility to anywhere in the United States so coffee lovers everywhere can enjoy the fresh, delicious Port City Java difference.
Unique Flavors for a Unique Experience
Back at our facility in Wilmington, we are cupping our roasts daily. This ensures that the beans have the aroma and "mouth-feel" desired, making any adjustments necessary to bring out the best flavors. For example, our
Guatemalan Nahuala
requires a lighter roast to bring out its bright, sweet milk-chocolaty flavors while the beans in our
Colombia French Roast
come alive with a longer, darker roast. The darker roast brings out the smoky and rich profiles of the beans along with the robust hints of dark chocolate and burnt caramel.
Timing Matters Because Freshness Matters
Roasting our own coffee allows all Port City Java cafés to receive the freshest product possible so they can grind only what they need. When coffee is ground it lasts up to a day at most. And we all know that there's no such thing as a great "old" cup of coffee. That's why we grind our beans at the last minute and serve it immediately after we brew it. Again, timing matters.
On-Demand Flavor
And it's not just our hot coffees that benefit from on-demand preparation. Port City Java uses the Japanese method for
brewing our iced coffees
. We use hot water to brew and extract all the complex flavors from our beans. The ice preserves those flavors, so you end up with a beautiful, fresh cup of coffee that just happens to be iced.
Planning a Great Cup of Coffee
Our roasting process is a significant part of what makes Port City Java unique, and it gives our guests an experience they can only find in our cafés. We're so proud of it that we like to share the experience by offering public tours of our roasting facility. Whether you're exploring the idea of
becoming a coffeehouse franchisee
or are simply curious about what makes Port City Java unique, join us for a tour.
Our locally roasted coffee process is just another way we show our commitment to growing our brand while following a higher standing. All it takes is planning…and great timing.
If you're interested in joining a unique coffeehouse brand, complete the
Port City Java inquiry form
for additional information.
« Back to Blog