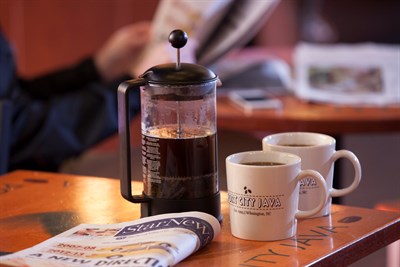 You only need to walk into a Port City Java café to feel our commitment to our guests, to the communities we serve, and to our franchisees. It is evident in your first sip of House Blend drip brew as you set down your laptop to begin working. It's in the neighbors you see working behind the counter or settling down in a comfy chair with a steaming Black and Tan Mocha. You can even see it behind the counter where a brewed-to-order Cappuccino is made with an efficiency that doesn't cut corners on taste. None of this is by chance. It is all part of a well-thought-out plan that
Port City Java
put into motion when we decided to redesign our cafés.
New Look — Same Commitment
Architect John Rees took the reins on the project, but he didn't do it alone. Many of the changes were based on the input of Port City Java baristas! Seriously, who would know better what it takes to provide for our guests in the quickest way possible than our own trained baristas? Getting input from "the trenches" so to speak, is part of our corporate philosophy. We listen to our guests, our employees and our franchisees.
Design Meets Practicality
The overall look is a combination of "green industrial." For example, Port City Java likes to use reclaimed and natural finishes wherever possible. Not only does it provide a nice homey look to our coffeehouses, but it also mirrors our commitment to our communities to reduce waste and make our neighborhoods cleaner. High traffic areas may have an "industrial" feel to them for a couple of reasons; it looks and feels modern, but it's also easier to keep clean and properly sanitized! This makes upkeep easier for our franchisees and their teams. This meeting of design with practicality is completely intentional.
Settle in for a Stay at Port City Java Café
The look and feel of our stores is a direct result of our company goal of roasting and serving incredible coffee with southern hospitality. Our intention is that our coffeehouse design will encourage guests to sit and linger. Other cafés might hurry customers out of the door. But at Port City Java, we hope our guests sit a spell and settle in for the morning. That means spacious tables, comfy chairs, and plenty of menu options. The addition of bakery products helps increase the average order so that owners can enjoy the lingering guests.
Exceeding Expectations
At Port City Java, it's our mission to "exceed the expectations of every guest on every visit. We pride ourselves in excellence, community, passion, respect and growth." Our redesign certainly aimed to create a space in which each guest would find comfort. And, it included taking care of
our franchisees
, which is why their needs and interests were also incorporated into today's coffeehouse design. In all, how our spaces look directly reflects our mission of excellence.
Learn more about Port City Java café franchising by
completing our inquiry form
.
« Back to Blog