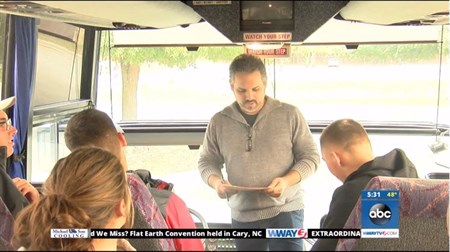 The 7
th
annual
Marines for Thanksgiving
event, created and hosted by
Port City Java
CEO
Steve Schnitzler
, is touching hearts across the southeast thanks to widespread media coverage of the event.
This year, Schnitzler chartered three buses to bring more than 150 Marines from Camp Lejeune to three Wilmington-area high schools where more than 70 families were waiting to take the Marines in for the day and show them Thanksgiving hospitality they will never forget.
Retired Army Lt. Col. Terry McDowell and his wife Leslie, who have three children serving in the military, participated in the event for the first time this year and said that it was such a great experience this will not be the last time.
"We thoroughly enjoyed our time with our Marines. They lit up our home with personality and gave our Thanksgiving even more meaning. It is so nice what Steve has created, and we were tickled to be one of the 'chosen' families!" said Leslie McDowell.

WWAY-TV reporter Basil John met Schnitzler and the McDowells at Hoggard High School on Thanksgiving morning and filled this report.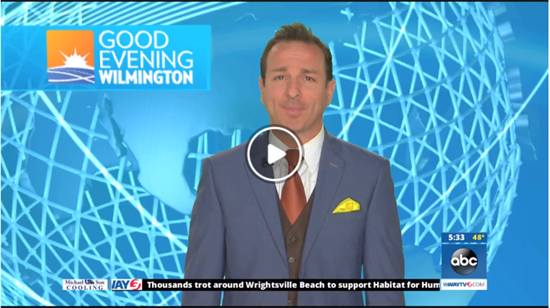 Thanks to an affiliation with
CNN
, the heartwarming story caught the attention of TV stations throughout the southeast and appeared in local newscasts in Charlotte, NC; Raleigh, NC; Myrtle Beach, S.C.; Greenville, S.C.; and Columbia, S.C. In city after city news anchors shared the story and commented on what a wonderful and special event Marines for Thanksgiving is for families and Marines.
When Schnitzler started this program seven years ago with one bus of 50 Marines, he knew he was on to something special as families gave him great feedback on how much they appreciated the opportunity to thank our military in this very intimate way.
"We all pay lip service to supporting troops. It can become rote. You want to thank them? Take them into your house, feed them dinner, look them in the eye, shake their hand, and say thank you," said Schnitzler.
He added that this project is "just him" and that he is at his best when he is helping others.
At
Port City Java
, it's about more than just brewing a fantastic cup of coffee; it's about being responsible corporate citizens and immersing ourselves in the communities that we call home. Doing so is an on-going effort in our local communities. In fact, today, the
Giving Back is the New Black
campaign is underway, which is our way to help fight local childhood hunger.
At the holidays and throughout the year, Port City Java encourages all our franchises to make our communities stronger by serving others and giving back. It's part of the passion that we put into the brand.
« Back to Blog